Almitas Superfood Recipes
The Almitas Superfood Recipes section is a carefully curated archive that makes it easier to add Almitas foods to your diet. If you want to live better and eat healthier, this is a great resource to help you on your journey.
Each recipe has been created by a professional chef to maximize its health benefits and taste. At the same time, each one has been designed with simplicity in mind. You don't need to cook professionally or have restaurant-quality equipment to make these scrumptious dishes that your family will love.
We invite you to check back here regularly as we will be adding fantastic new recipes each and every week!
If you have a recipe request, please reach out to us on Facebook or Instagram, or through our contact page. If you have a recipe of your own, please visit our Consumer Community to see how you can be featured there. And, remember to pin your favourite recipes to your Pinterest boards.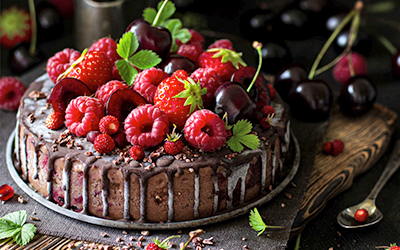 Chocolate and Cherry Ice Cream Cake For the ice cream cake: 500 g ripe frozen bananas 40 g Medjool dates 2 tbsp cacao powder 30 g (1.5 tbsp) Almitas Organic Yacon Syrup 2 tsp cacao nibs (blended to powder) 45 g almond butter or tahini 150 g fresh cherries For the...