Chocolate and Cherry Ice Cream Cake (Yacon Syrup Recipes)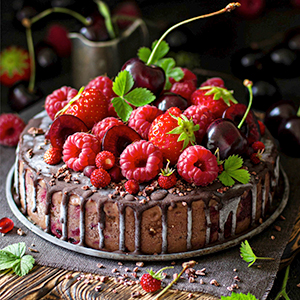 Chocolate and Cherry Ice Cream Cake
Chocolate and Cherry Ice Cream Cake (Yacon Syrup Recipes)
Equipment
Food Processor

16-18 cm Cake Tin
Ingredients
For the ice cream cake:
500

g

ripe frozen bananas

40

g

Medjool dates

2

tbsp

cacao powder

30

g

(1.5 tbsp) Almitas Organic Yacon Syrup

2

tsp

cacao nibs (blended to powder)

45

g

almond butter or tahini

150

g

fresh cherries
For the chocolate drizzle:
15

g

odourless coconut oil

10

g

(1.5 tsp) Almitas Organic Yacon Syrup

1

tsp

cacao powder
For decorative toppings:
Fresh cherries or mixed seasonal fruits
Instructions
To make the ice cream cake, blend all the cake ingredients (except the fresh cherries) in a food processor.

When the mixture is smooth, add the chopped, pitted cherries and stir them in with a spoon.

Transfer the ice cream mixture into a round cake tin (a 16-18 cm cake tin will work best) and freeze for 3-4 hours. The ice cream cake should be properly set but not rock hard.

Take the ice cream cake out of the tin and prepare the chocolate drizzle.

Melt the coconut oil and mix it with Almitas Organic Yacon Syrup and cacao powder. Drizzle the chocolate all over the cake and let it drip down the sides.

Serve decorated with fresh cherries or a mix of seasonal fruits (raspberries, strawberries, or blueberries).
Notes
Dietary Suitability
This Ice Cream Cake recipe is suitable for vegan, gluten-free, and raw food diets. It is a low-fat, high-fibre (high-fiber) treat that can offer a host of health benefits.
While Almitas Organic Yacon Syrup is keto-friendly, this Ice Cream Cake recipe features ripe bananas, so it's likely not suitable for keto diets.
It may, however, be suitable for those seeking low glycemic index foods. Most of the ingredients in this recipe have low glycemic indexes. The ripe bananas, however, generally fall between low and medium on the glycemic index. (This is one to ask your doctor, nutritionist, or healthcare provider about, as it could be a suitably healthy treat for those seeking low GI foods.)
Meal-Time Matches
Our Chocolate and Cherry Ice Cream Cake recipe was designed as the perfect summer dessert. However, as it is an Almitas Organic Yacon Syrup (based) recipe, it's healthy enough to eat as an energy-boosting breakfast meal or as a midday or post-workout snack.
Quick and easy to make, this healthy, tasty recipe is a great introduction for first-time cooks. It's also the ideal recipe for families to get their young children involved in meal preparation.
Older children can make this yacon syrup (based) recipe for their own snacks or as their contribution to family meals. When we feature Almitas Organic Yacon Syrup on social media, this is a recipe we promote as something everyone can make for their parents and grandparents for Mother's Day, Father's Day, or Grandparents' Day.
Nutrition
This low-fat, high-fibre (high-fiber) treat is light, refreshing, and super-delicious. It's a recipe almost everyone can enjoy and benefit from.
Additionally, since this is one of our no-heat yacon syrup recipes, all Yacon Syrup benefits are preserved. In fact, as a raw food recipe, the nutrition of every ingredient is preserved:
1. Yacon syrup provides high levels of fiber (fibre), fructooligosaccharides (FOS), phenolic compounds, and potassium.
2. Bananas provide high levels of fiber, potassium, and vitamins B6 and C, along with plant compounds such as catechins and dopamine.
3. Medjool dates offer several nutrients in large amounts, including copper, fibre, magnesium, potassium, and Vitamin B6. They are also high in various antioxidants, such as flavonoids, carotenoids, and phenolic acids.
4. Cacao powder and cacao nibs are a good source of several nutrients, including copper, fiber, iron, phosphorous, magnesium, manganese, and zinc. They are also an excellent source of antioxidants, particularly flavonoids.
5. Almond butter is high in copper, magnesium, manganese, ​phosphorous, Vitamin B2 (Riboflavin), Vitamin E, and zinc.
6. Cherries are high in Vitamin C and have suitable amounts of copper, fiber, manganese, and potassium. They are also packed with antioxidants and anti-inflammatory compounds.
7. Coconut oil is a good source of medium-chain triglycerides (MCTs) and various antioxidants.