Quinoa Bowl with Yacon Syrup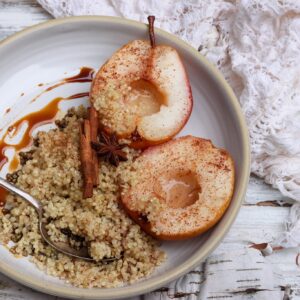 Quinoa Bowl with Yacon Syrup
Ingredients
1/2

cup

white quinoa

1

pear

slice in half lengthwise

1

tsp

coconut oil

1

pinch

ground cinnamon

2

sticks

cinnamon

2

anise stars

1-2

tbsp

Yacon Syrup
Instructions
Preheat oven to 375 degrees F. Line baking sheet with parchment paper.

Cut pear in half lengthwise; spoon out the seeds.

Brush the pear with coconut oil and place the skin side down.

Sprinkle pears with cinnamon and bake in the oven for 15-20 minutes (depending on how firm your pear was) until fork tender and golden brown.

To the medium saucepan, add previously rinsed quinoa, water, cinnamon sticks, and anise stars (cook following directions from the packaging).

Transfer cooked quinoa to the bowl, serve with baked pear, topped with Yacon syrup and extra cinnamon to taste. Enjoy!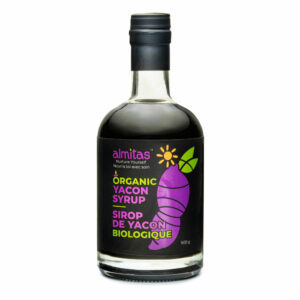 Organic Yacon Syrup — Value-Sized Bottle
500 g
For a limited time, you can purchase our industry-leading Organic Yacon Syrup in our easy-pour, family-sized glass bottle. It's the same trusted Yacon Syrup found in our classic jar — same quality, same benefits — just more of it. Order today while supplies last!
Organic Yacon Syrup — Classic Jar
285 g
The industry's highest-quality Organic Yacon Syrup in our most-affordable size. With 30 percent FOS (Fructooligosaccharides), Almitas sets the standard the rest of the industry is trying to reach. Nurture Yourself with Almitas today — and get the maximum health benefit from your Yacon Syrup.