Homemade Waffles with Yacon Syrup Cranberry Compote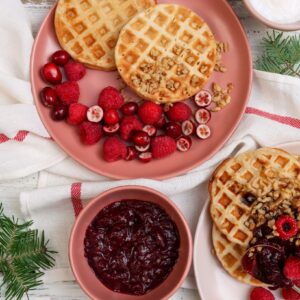 Homemade Waffles with Yacon Syrup Cranberry Compote
Ingredients
Waffles
1 1/4

cup

all-purpose flour

2

tsp

baking powder

3

tbsp

brown sugar

1 1/4

cup

dairy-free milk of your choice

3

tbsp

oil

1

pinch

salt
Cranberry compote
1 1/2

cup

fresh cranberries

1

orange (juice plus zest)

1/4

cup

Yacon Syrup
For serving
Coconut whipped cream

Berries

Extra Yacon Syrup
Instructions
Preheat your waffle machine.

Sift the flour into a bowl and add the baking powder, brown sugar, and salt. Then add the milk and oil and whisk or mix using a hand mixer (the batter will be quite thin).

When your waffle maker is heated, brush it with oil, pour out the portion of batter and close the machine.

Allow to cook for 5-6 minutes.

Add all the Cranberry compote ingredients (except the Yacon syrup) to a pot over high heat.

Bring the ingredients to a boil until cranberries begin to pop, and then remove from heat.

Allow to cool before adding Yacon syrup.

Serve your waffles topped with Cranberry compote, whipped cream, and your favourite berries. Enjoy!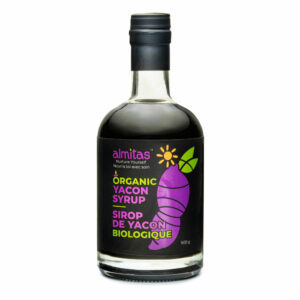 Organic Yacon Syrup — Value-Sized Bottle
500 g
For a limited time, you can purchase our industry-leading Organic Yacon Syrup in our easy-pour, family-sized glass bottle. It's the same trusted Yacon Syrup found in our classic jar — same quality, same benefits — just more of it. Order today while supplies last!
Organic Yacon Syrup — Classic Jar
285 g
The industry's highest-quality Organic Yacon Syrup in our most-affordable size. With 30 percent FOS (Fructooligosaccharides), Almitas sets the standard the rest of the industry is trying to reach. Nurture Yourself with Almitas today — and get the maximum health benefit from your Yacon Syrup.