Easy Vegan Energy Balls – Sweetened with Yacon Syrup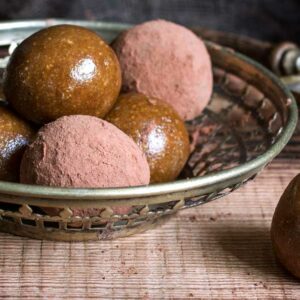 Easy Vegan Energy Balls
Equipment
Food Processor

Mixing Bowl
Ingredients
For the energy balls (makes 10 truffles)
80

g

toasted cashew nuts

40

g

yacon syrup

40

g

medjool dates

40

g

ground almonds

1

tsp

water

1/2

tsp

maca powder

1/2

tsp

cinnamon

pinch

of freshly grated nutmeg

pinch

of allspice powder

1/2

tsp

ginger powder
For the coating (optional)
Instructions
Begin by blending the cashew nuts with water, yacon syrup, and dates in a food processor until a thick smooth paste is formed. Transfer the paste into a mixing bowl, add the rest of the ingredients and mix well using your hands until a smooth dough is formed. Divide the mixture into 10 even parts (you can use a scale and weigh up 10 balls to 21g each). Roll the balls using your hands and put them in the freezer for 1 hour. Serve plain or coated in cacao powder. They will last for approximately 2 weeks in the fridge and up to 2 months in the freezer.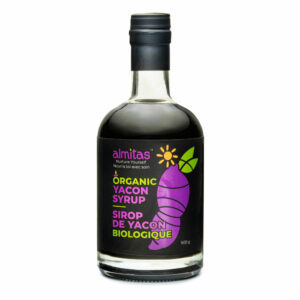 Organic Yacon Syrup — Value-Sized Bottle
500 g
For a limited time, you can purchase our industry-leading Organic Yacon Syrup in our easy-pour, family-sized glass bottle. It's the same trusted Yacon Syrup found in our classic jar — same quality, same benefits — just more of it. Order today while supplies last!
Organic Yacon Syrup — Classic Jar
285 g
The industry's highest-quality Organic Yacon Syrup in our most-affordable size. With 30 percent FOS (Fructooligosaccharides), Almitas sets the standard the rest of the industry is trying to reach. Nurture Yourself with Almitas today — and get the maximum health benefit from your Yacon Syrup.