Vegan Raspberry Pistachio Energy Bars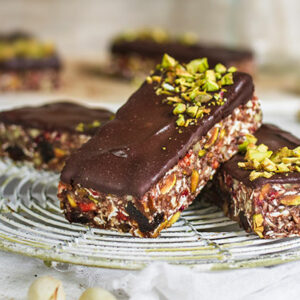 Vegan Raspberry Pistachio Energy Bars
Vegan Energy Bars Sweetened With Yacon Syrup
Equipment
Food Processor

Mixing Bowl

Baking Tray

Silicone Spatula
Ingredients
Ingredients (for 15cm square tray, makes 8 bars):
50

g

medjool dates

60

g

cashew butter or almond butter

40

g

yacon syrup

15

g

odourless coconut oil

100

g

oats

60

g

chopped toasted pecan nuts

60

g

chopped toasted pistachio nuts

50

g

fresh or frozen raspberries (defrosted)

10

g

dried raspberries (pieces or powder)

5

g

chia seeds

30

g

dried apricots (chopped)

1

pinch

salt
For the topping (optional):
40

g

cocoa liquor

15

g

yacon syrup

20

g

chopped pistachios
Instructions
Preparation:
Start by blending dates, yacon syrup, cashew butter (or any other nut butter available to you), and fresh raspberries in a food processor until a thick sticky paste is achieved

Transfer the paste into a mixing bowl

Add the remaining ingredients to the bowl and mix thoroughly

Let the mixture thicken for approximately 15 minutes

Once a thick consistency, line the baking tray with parchment paper and transfer the mixture into the tray

Smooth the surface with a spatula

Set in the freezer for a few hours

Remove the frozen mixture from the baking tray and cut it into 8 even bars

Melt cocoa liquor in a bowl on a saucepan with hot water, then proceed to add yacon syrup and stir until the mixture is well combined

Dip each frozen energy bar in the chocolate mixture and sprinkle with pistachios pieces

Store in the fridge for up to 1 week or in the freezer for up to 2 months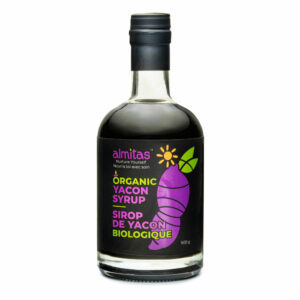 Organic Yacon Syrup — Value-Sized Bottle
500 g
For a limited time, you can purchase our industry-leading Organic Yacon Syrup in our easy-pour, family-sized glass bottle. It's the same trusted Yacon Syrup found in our classic jar — same quality, same benefits — just more of it. Order today while supplies last!
Organic Yacon Syrup — Classic Jar
285 g
The industry's highest-quality Organic Yacon Syrup in our most-affordable size. With 30 percent FOS (Fructooligosaccharides), Almitas sets the standard the rest of the industry is trying to reach. Nurture Yourself with Almitas today — and get the maximum health benefit from your Yacon Syrup.