Upside-Down Apple Cake with Yacon Syrup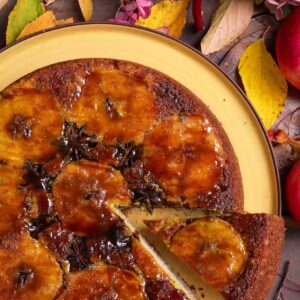 Upside-Down Apple Cake with Yacon Syrup
Ingredients
2

medium apples peeled and sliced into 8 similar circles (1/4 inch thick)

3/4

cup

dairy-free milk of your choice

1/4

cup

applesauce

1

tbsp

freshly squeezed orange juice

1/3

cup

brown sugar

1/4

cup

olive oil

1

tsp

vanilla extract

1/2

tsp

chai spice

1

tsp

cinnamon

1/2

tsp

cardamom

5-8

anise stars

1/2

tsp

turmeric

1 1/2

cups

all-purpose flour

2

tsp

baking powder

1/4

cup

Yacon Syrup

1

pinch

salt
Instructions
Preheat the oven to 350 F

Line an 8-inch cake pan with parchment at the bottom. Coat the apple slices with turmeric and sprinkle with brown sugar.

Arrange the apple slices and star anise in the prepared pan.

Mix all the wet ingredients (except Yacon syrup) in a bowl until well combined.

Mix the baking powder, baking soda, and spices into a sieved flour.

Add the flour mixture (slowly, in a few parts) to the wet ingredients and stir in.

Pour gently on top of the apple slices and spread to even it out.

Bake for 35 to 40 minutes or until a toothpick from the center comes out clean.

Cool for 15 -20 minutes, then remove the cake by inverting it over a dish. Carefully peel off the parchment paper.

Pour the Yacon Syrup on top of the cake. Enjoy!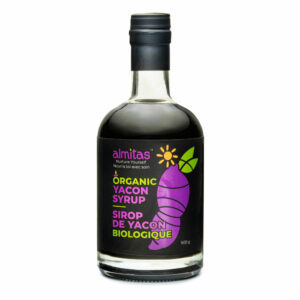 Organic Yacon Syrup — Value-Sized Bottle
500 g
For a limited time, you can purchase our industry-leading Organic Yacon Syrup in our easy-pour, family-sized glass bottle. It's the same trusted Yacon Syrup found in our classic jar — same quality, same benefits — just more of it. Order today while supplies last!
Organic Yacon Syrup — Classic Jar
285 g
The industry's highest-quality Organic Yacon Syrup in our most-affordable size. With 30 percent FOS (Fructooligosaccharides), Almitas sets the standard the rest of the industry is trying to reach. Nurture Yourself with Almitas today — and get the maximum health benefit from your Yacon Syrup.