Vegan Thousand Islands Salad Dressing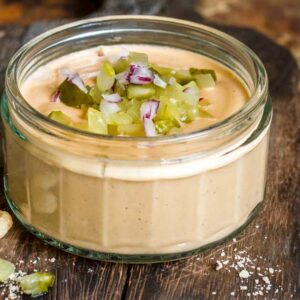 Vegan Thousand Islands Salad Dressing
Vegan Thousand Islands Salad Dressing with Yacon Syrup
Ingredients
For the pudding:
45

g

cashew nuts

20

g

water

5

g

lemon juice

5

g

apple cider vinegar

8

g

olive oil

45

g

fresh tomatoeas

without skin

10

g

chilli sauce or 1/4 tsp chilli powder

1/2

garlic clove

1/4

tsp

salt

5

g

yacon syrup

1

tsp

finely chopped red onion

2

tsp

finely chopped cucumber pickes

gherkins
Instructions
Bring water to a boil and place fresh tomato into boiling water for 1 minute. Remove the skin from the tomato and place the peeled tomato in a blender. Blend all the above ingredients except the onion and gherkins until a smooth consistency is reached. Add the mixture to a bowl. Proceed to add 2 tsp of finely chopped gherkins and 1 tsp of finely chopped red onion and mix well. Serve immediately for the best result. Can keep in a refrigerator for up to 1 week.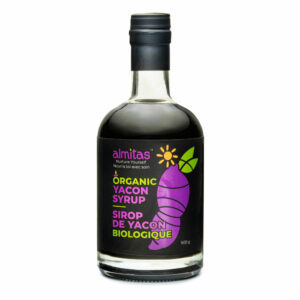 Organic Yacon Syrup — Value-Sized Bottle
500 g
For a limited time, you can purchase our industry-leading Organic Yacon Syrup in our easy-pour, family-sized glass bottle. It's the same trusted Yacon Syrup found in our classic jar — same quality, same benefits — just more of it. Order today while supplies last!
Organic Yacon Syrup — Classic Jar
285 g
The industry's highest-quality Organic Yacon Syrup in our most-affordable size. With 30 percent FOS (Fructooligosaccharides), Almitas sets the standard the rest of the industry is trying to reach. Nurture Yourself with Almitas today — and get the maximum health benefit from your Yacon Syrup.