Vegan Overnight Oat and Chia Pudding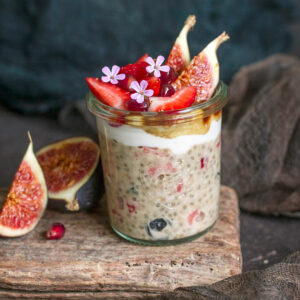 Vegan Overnight Oat and Chia Pudding
Overnight Oat and Chia Pudding with Strawberries and Yacon Syrup.
Ingredients
For the pudding:
10

g

chia seeds

15

g

oats

120

g

almond milk or other plant milk of your choice

20

g

yacon syrup

10

g

raisins

1

tsp

lemon juice

40

g

chopped strawberries

pinch

of vanilla powder

For the toppings:

2

tbsp

coconut or soya yogurt

1

tsp

yacon syrup

Chopped strawberries

figs and pomegranate seeds for garnish
Instructions
To start, mix chia seeds with oats and your plant milk of choice in a mason jar. Stir well and leave to soak for 1-hour minimum. If you plan to consume the following day, leave the mixture to soak overnight. When the chia seeds and oats absorb all the milk add the remaining ingredients and stir well. Top the pudding with yogurt and drizzle with yacon syrup. Decorate with fresh strawberries, figs, and pomegranate seeds. The pudding can be eaten straight from the mason jar or transferred to a bowl.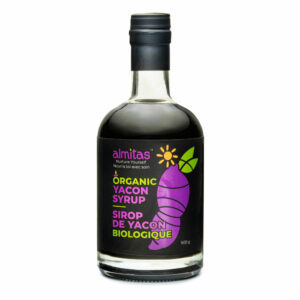 Organic Yacon Syrup — Value-Sized Bottle
500 g
For a limited time, you can purchase our industry-leading Organic Yacon Syrup in our easy-pour, family-sized glass bottle. It's the same trusted Yacon Syrup found in our classic jar — same quality, same benefits — just more of it. Order today while supplies last!
Organic Yacon Syrup — Classic Jar
285 g
The industry's highest-quality Organic Yacon Syrup in our most-affordable size. With 30 percent FOS (Fructooligosaccharides), Almitas sets the standard the rest of the industry is trying to reach. Nurture Yourself with Almitas today — and get the maximum health benefit from your Yacon Syrup.