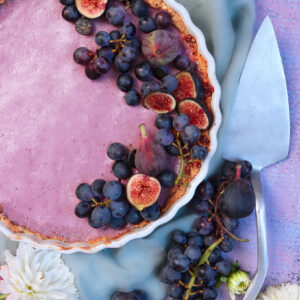 Vegan Concord Grape Tart
Vegan Concord Grape Tart with Almitas™ Yacon Syrup
Ingredients
Tart Base
1

cup

almonds

1

cup

shredded coconut (unsweetened)

4

dates

1/4

cup

dried golden berries

1

tbsp

almond butter

1

tbsp

coconut oil

1

tsp

Almitas™ Yacon Syrup

1

pinch

salt
Tart Filling
1 1/2

cups

full fat coconut cream

2

cups

Concord grapes

2

tbsp

Almitas™ Yacon Syrup

1

tsp

corn starch

2

tsp

agar-agar

1

tsp

vanilla extract
Instructions
Blend all of the crust ingredients in a food processor until you obtain a uniform sticky mixture.

Line the tart tin with parchment paper and spread the crust dough evenly on the whole surface. Press it and leave to chill in the fridge, while you prepare the filling.

Heat up the coconut cream in a medium saucepan, stir until smooth.

In a separate saucepan mash the Concord grapes (so they release their juice)

Bring them to a slow boil and cook for a few minutes.

Strain the grape juice to the coconut cream.

Add the vanilla extract, corn starch and agar-agar, heat until the mix thickens, stirring continuously.

Remove from the heat, let it cool for a few minutes.

Add Yacon Syrup and stir.

Pour the filling over the crust (through a sieve to remove any lumps) and leave it to cool completely. Place in the fridge for a few hours, until the filling is completely set.

Decorate with Concord grapes and fresh figs. Enjoy!